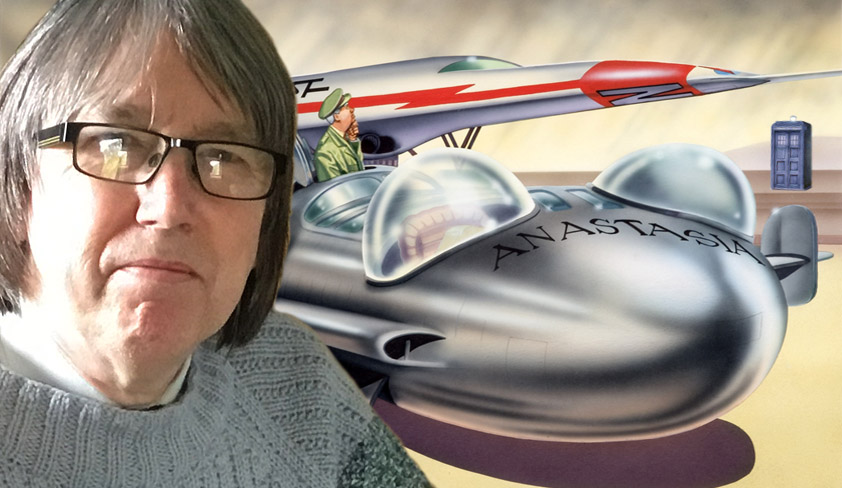 Andrew Skilleter is a long-time UK illustrator of many things, with a track record spanning decades using primarily traditional techniques. It was his childhood dream to be an illustrator, his early influence being the cream of the British picture strip artists who flourished in the golden age of comics that was all over by the end of the 1960s. 
He is best known for his long professional association with Doctor Who and the BBC while maintaining a busy illustrative career mainly illustrating works of mystery and imagination and a maintaining long creative partnership with the BBC which included the Radio Collection covers such as The Chronicles of Narnia, Journey Into Space and Tolkein. He has worked with other BBC departments including visual entertainment and exhibitions and the Radio Times. His Doctor Who art dominated the 1980s and continued into the 1990s. It included over forty covers for the Target Books Doctor Who novelisations, the much loved Who Dares Poster Prints, the official Doctor Who calendars, the legendary Cybermen book with Cyber Leader David Banks, the iconic for Radio Times The Five Doctors cover, Doctor Who BBC VHS covers and the Doctor Who Virgin New Adventures covers. His artwork has previously been collected in Blacklight, celebrating 15 years of his Doctor Who art published by Virgin in 1995 and a collection of his Dalek art, Exterminart! in 2021.

ILLUMINART~ The Doctor Who Art of Andrew Skilleter follows the sell-out success of Exterminart! This is the first volume of what will be a Trilogy featuring not only most of his Doctor Who art but also selected pieces from his numerous SciFi and Fantasy work.
Outside of Who, Andrew has produced hundreds of covers for adult, teenage and children's books across numerous genres. His work has also encompassed the illustration of many books, magazines, CDs and Audio, TV and Video. Genres and series include the Gerry Anderson, Dan Dare, Star Wars, Tripods, Earthsearch, Journey into Space.
With John Peel, he launched the Doctor Omega Chronicles and is the creator of a new heroine, Miss Amelia Midnite who features in a ongoing personal project. He publishes his own art collections including the Doctor Who Art Calendar each year and continues with private commissions and selling his original art.  Enquiries welcome.
Target Books ~ BBC VHS ~ New Adventures ~ Radio Times The Five Doctors ~ Official Doctor Who Calendar ~ Who Dares Publishing ~ Doctor Who Magazine ~ Cybermen Book ~ USA Exhibition and more…
Contact Andrew  hello@andrewskilleter.com