Dr Who USA Tour 1986 Exhibition Trailer Art
In the autumn of 1985 I was approached by Julie Jones, then organiser of BBC Exhibitions, to see if I was interested in getting involved with a hush-hush Doctor Who special project for the USA where Doctor Who was experiencing considerable popularity. It turned out they were asking me to provide art and design for an exhibition trailer that would tour the States. In my book,
Blacklight,
you can read a complete illustrated chapter on the project. I inadvertently ended the chapter speculating if it was now rusting in some prairie barn. How right I was – Kevin Taylor actually discovered it's rusting remains in an American scrapyard (there were scurrilous rumours that the artist was also found derelict in Dorset some years later) and the full illustrated story of the exhibition and it's demise can be seen
here.
The Dr Who exhibition trailer toured the States for two years starting in 1986. A copy of the Doctor Who USA Tour Logo art occupied the double rear doors of the trailer.  This logo was also used for a high quality T-Shirt sold from the exhibition.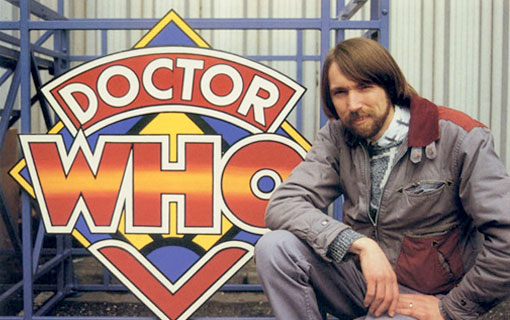 USA Travelling Exhibition Artwork 1986 by Andrew Skilleter