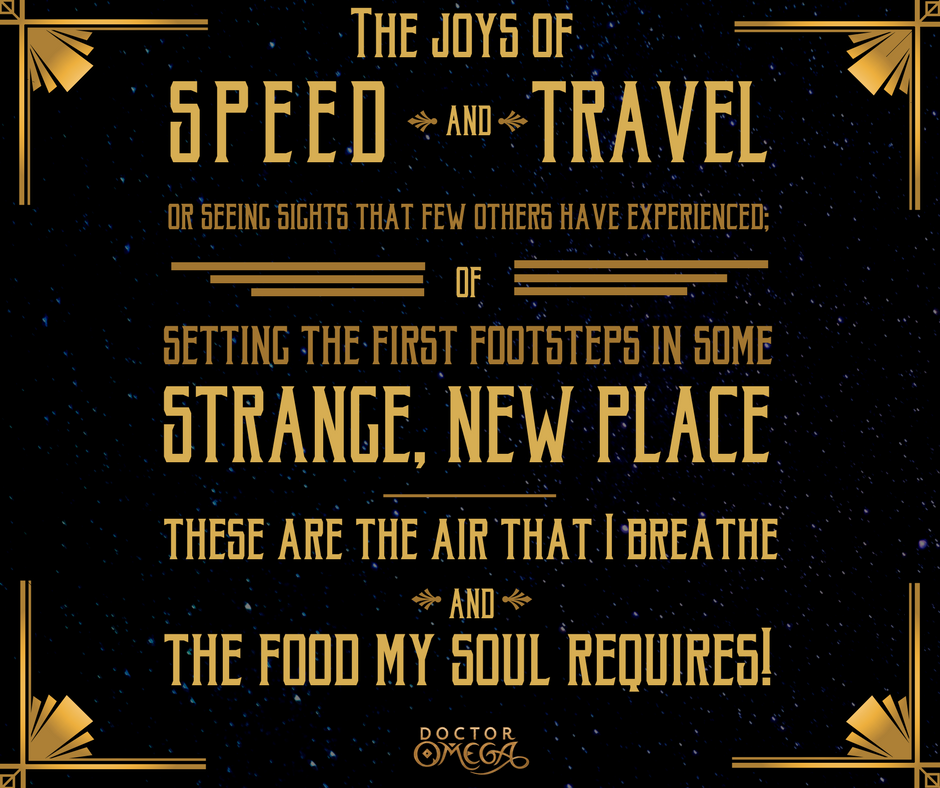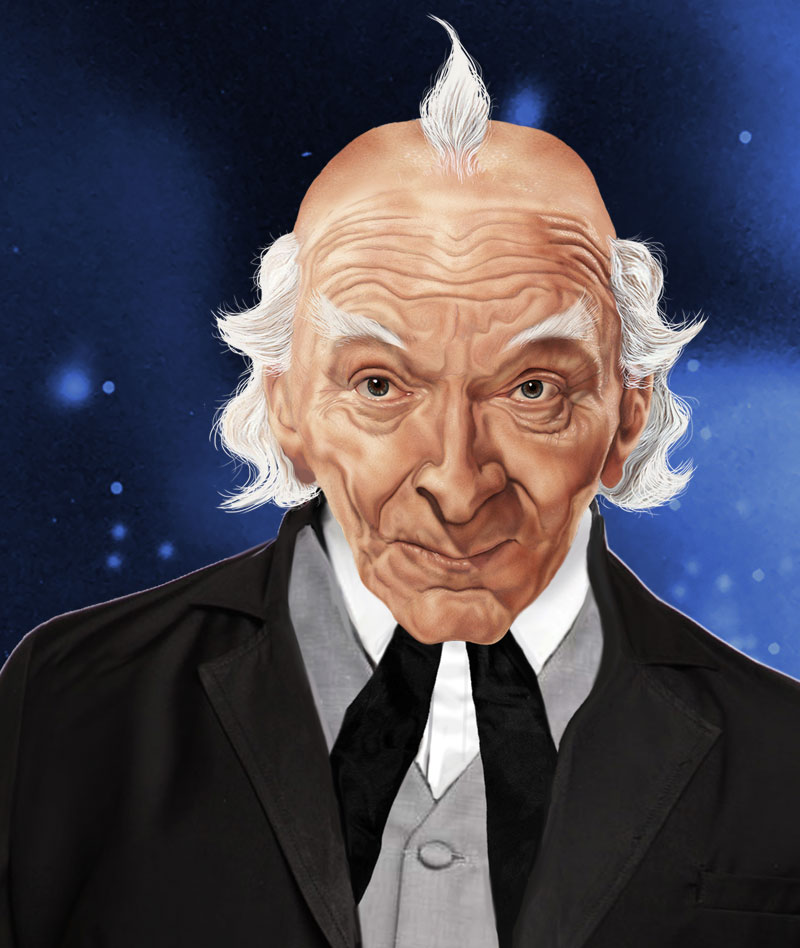 Doctor Omega
Doctor Omega is a scientist and inventor of extraordinary ability, with long white hair topped by a wayward wisp, rather old-fashioned clothing and a walking stick. Using his very own time ship, the Galopin, he is now able to travel in time and space. He is given to irritability and a refusal to tolerate fools gladly but is open minded and courageous.
Miss Amelia Midnite
We meet her in the guise of a cultivated and self assured English aristocrat and aviatrix heroine of the Roaring Twenties. But she is so much more – a young woman of mystery on the run in time and space from a mysterious enemy. A fearless adventurer, she is her own woman, masterful with men. She boasts combat skills and while no scientist, she is a capable engineer having designed and built her own aircraft and spacecraft, The Midnite Express.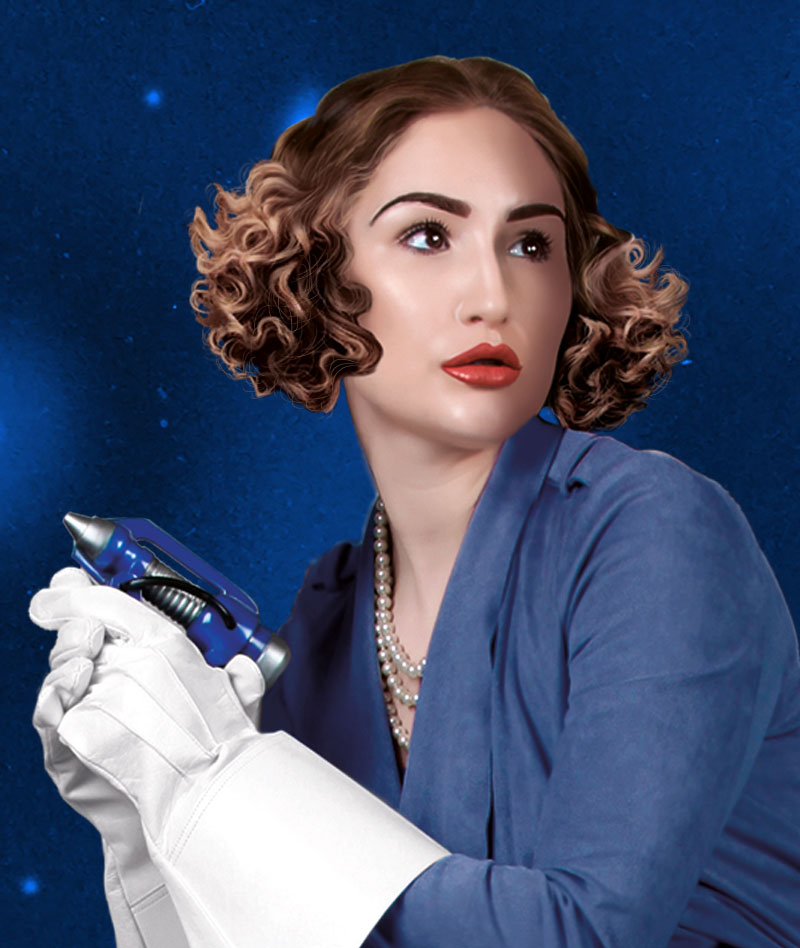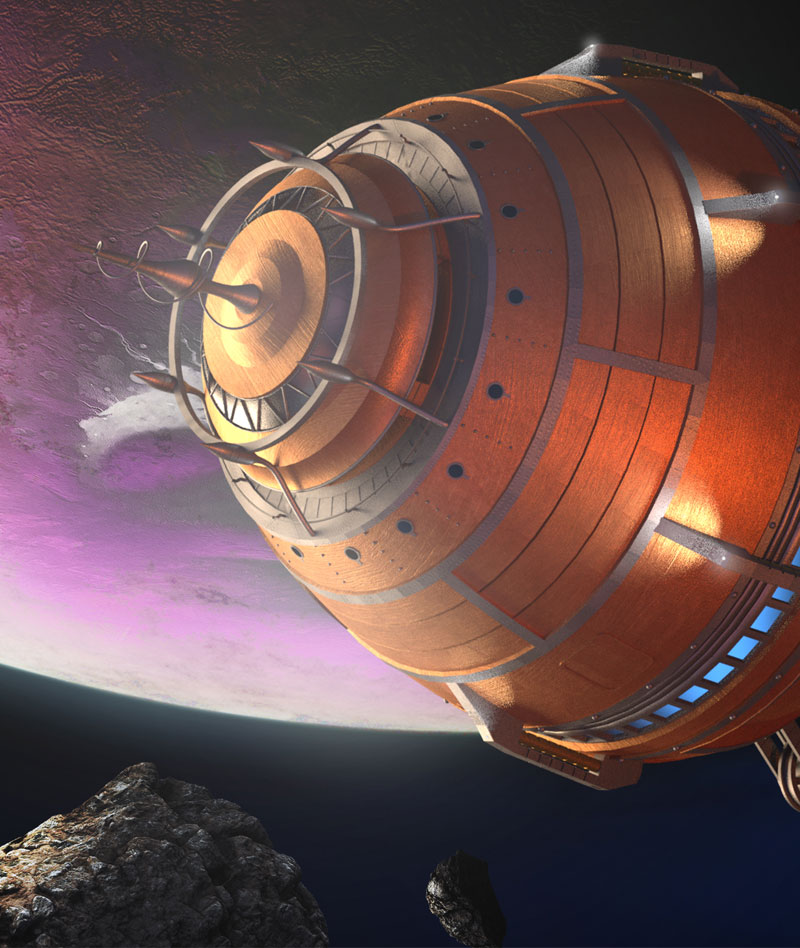 The Galopin
The fantastical time ship standing some ninety feet tall invented by Doctor Omega in early 19th Century France. Amongst the essential accommodation and control room, this extraordinary craft boasts a library and greenhouse.
Doctor Omega ~ Origins
He first sprang to life from the imagination of writer Arnould Galopin in 1906. He was a fairly prolific writer, and Doctor Omega, now in the Public Domain, was only one of his creations. In his story, the Doctor, his assistant, Fred and his neighbour, Denis Borel, travel in the Doctor's spaceship, the Cosmos, to Mars. There they encounter the bizarre Martians, get involved in a war and finally manage to return home. Galopin was from the town of Marbeuf in Normandy, and so was his character. Galopin wrote a number of novels after this, but never brought back Doctor Omega. The similarity that Doctor Omega bore to the first Doctor, played by William Hartnell – long white hair, rather old-fashioned clothing, walking stick – and a rather arrogant and belligerent manner was first noted by Jean-Marc Lofficier.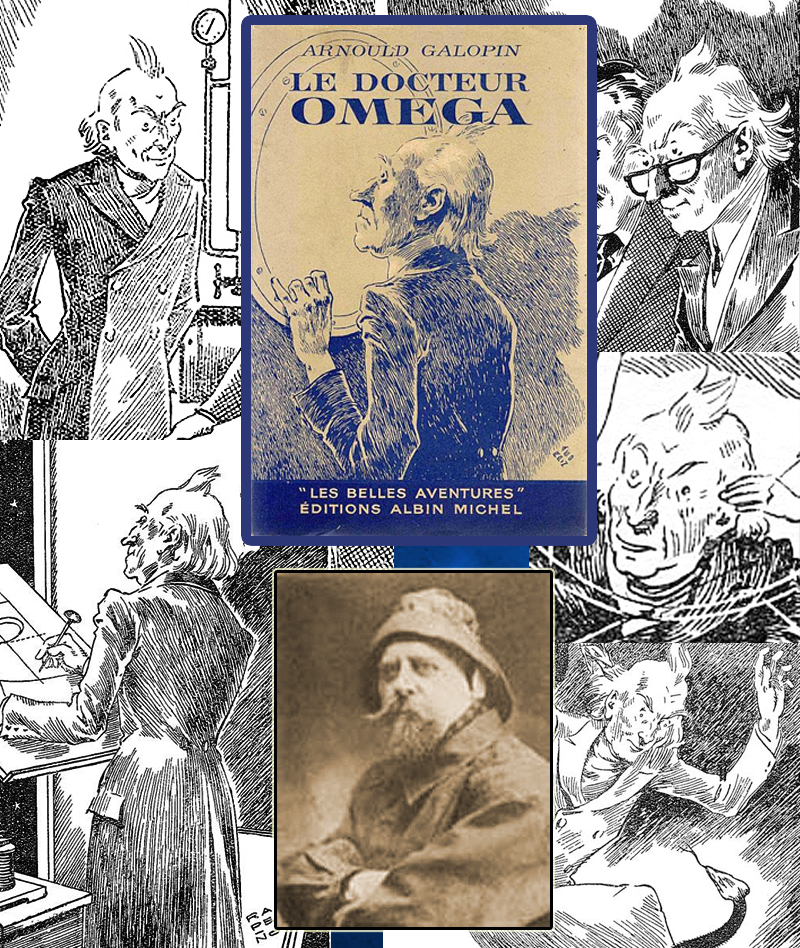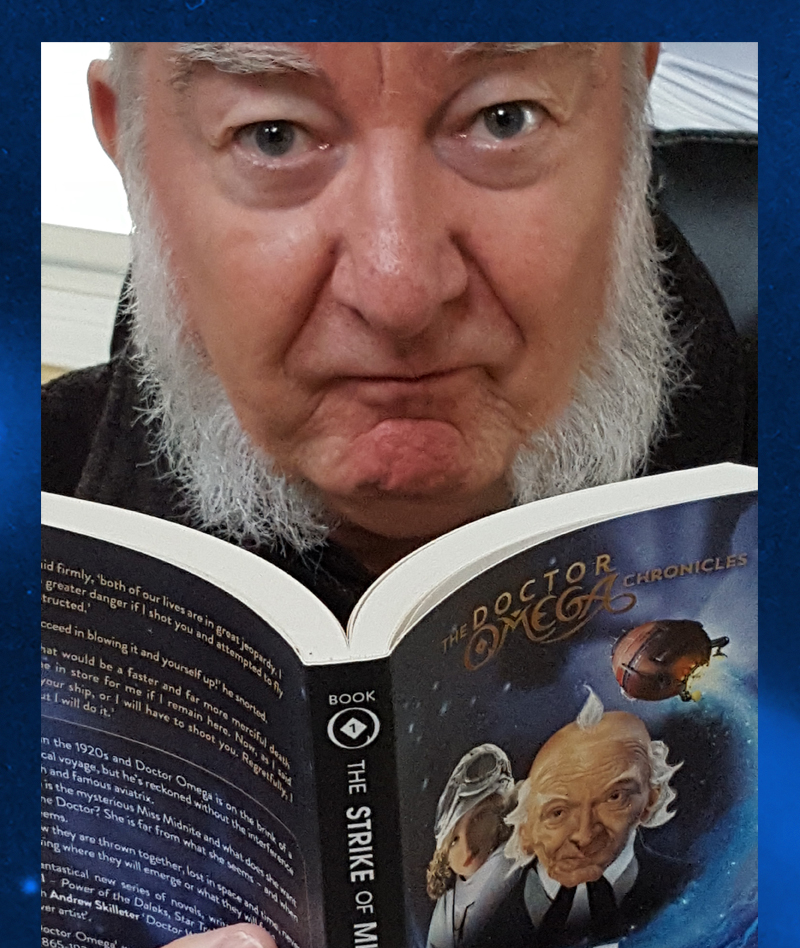 John Peel

Chief writer
John Peel was born in Nottingham, home of Robin Hood. Since then, he's so far written over a hundred books. His latest works are the new adventures of Doctor Omega, in collaboration with artist Andrew Skilleter on this ongoing series. John has written novelisations of Doctor Who TV stories featuring the Daleks, working closely wit their creator, Terry Nation, as well as original stories for the good Doctor, and also original tales of Brigadier Lethbridge-Stewart. He's penned novels based on shows like Star Trek and The Outer Limits, as well as an original novel of TV's The Avengers (recently made into an audio play from Big Finish). John has created his own fantasy worlds – Diadem and Dragonhome and written numerous other novels for adults, young adults and children.
Andrew Skilleter
Series developer, Creator of Miss Midnite and cover artist
Andrew Skilleter has been a significant presence in the world of Doctor Who art for thirty eight years. From 1979 to 1995, he was professionally involved with Doctor Who, his work including the iconic The Five Doctors Radio Times cover, book covers including forty nine for legendary Target and related books, BBC VHS covers, books, calendars, prints and other merchandise establishing him as the foremost professional Who artist of that period.
This led to him worked closely with Doctor Who producer, the late John Nathan-Turner, and had a long creative liaison with the BBC.
Outside the of Doctor Who he maintained a busy career from the 1970s as a versatile illustrator working mainly in publishing. Late in 2016 Andrew and the entrepreneur and Doctor Who memorabilia expert Matthew Doe reformed the classic Who Dares Publishing imprint and The Doctor Omega Chronicles is their first venture back into the world of book publishing.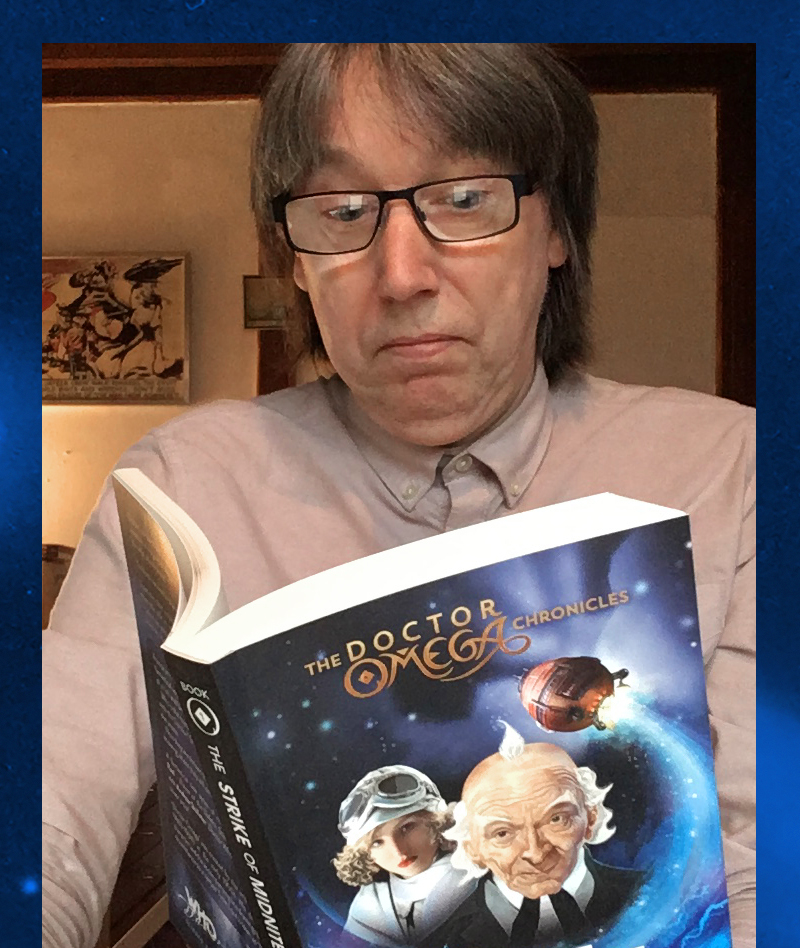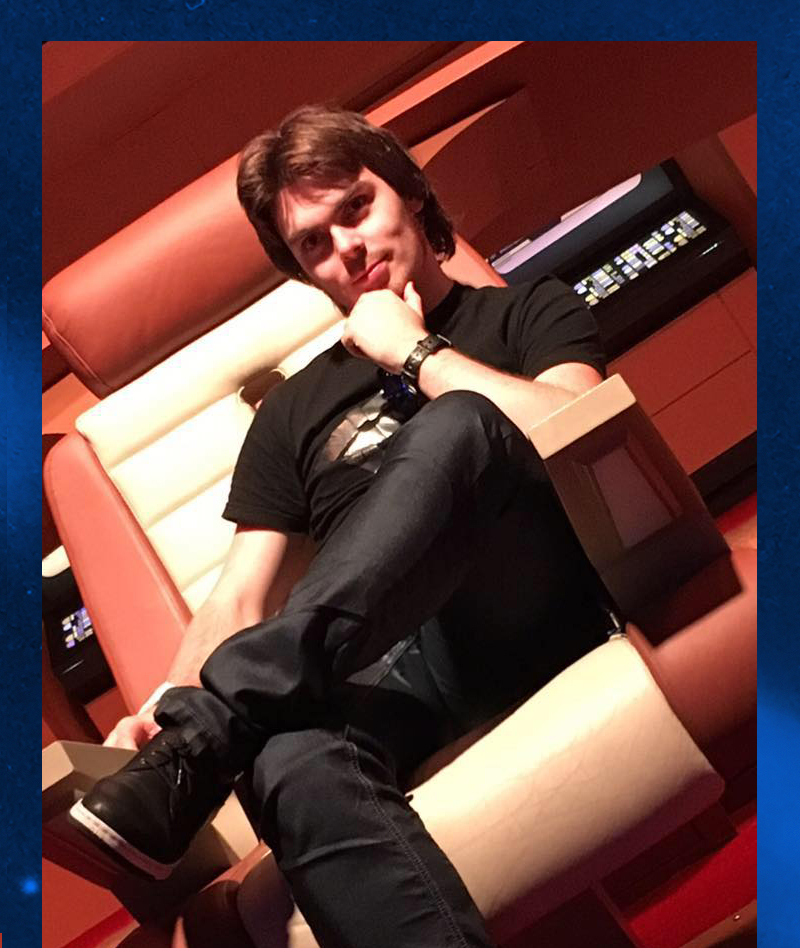 Chris Thompson
Chris Thompson is an self taught artist from Belfast, specialising in Sci-fi, fantasy and adventure art.  One of his many interests in design is the evolution a design can make over the years. By the time he came into the world there where six generations of Cyberman, three Enterprises, eighteen Godzillas and dozens of Batmobiles. He works as a freelance artist using 3D modelling on projects for companies such as Who Dares Publishing, Anderson Entertainment, Big Finish and DC Thomson.
He first came to the notice of Who Dares through his DalekStainly design Mike Tucker's story Order of the Daleks for Big Finish. The design turned out to be hugely popular and people genuinely seemed to appreciate something new being done with the Daleks. This lead to the creation of the Evilution limited edition portfolio for Who Dares.
When Andrew Skilleter decided to develop the Doctor Omega Chronicles he approached Chris to design the Galopin time ship and Miss Midnite's hand gun, now created as a model by Richard Ashton of Its An Ashton.
https://www.facebook.com/ChrisThompsonArtist/
The Development of Doctor Omega
The Development of Doctor Omega for Who Dares by Andrew Skilleter
Andrew Skilleter put to John Peel the idea of taking the public domain character of Doctor Omega (which he had already authored in another incarnation) and giving it a new twist, making it the Who Dares Doctor Omega. The main change would be that the Hartnellesque Doctor would now have invented a spacecraft capable of time travel and that he would have a young woman of action as a companion inspired by the idea of a retro 'aviatrix'; Miss Amelia Midnite, created by Andrew Skilleter.
And what of our Doctor Omega? His dialogue reflects his time but he is a pragmatist, hungry for new discoveries and will non-judgementally interact with previously unknown people and races. He does, just as the first Doctor Who did, refer to Miss Midnite on occasions as 'my dear' but this is based on the conventions of his time and he is neither sexist nor a feminist.
Doctor Omega's new spacecraft, The Galopin, was visually inspired by the extraordinary machine I created for the cover of John Peel's book for Virgin The Gallifrey Chronicles, the original of which still hangs in John's study in Long Island, USA. I took this to the talented Chris Thompson with ideas from John's text and my own, to redesign.
Our Doctor Omega is undoubtedly a team effort but make no mistake: the writer is John Peel. He has brought Andrew's ideas to life and given a voice to his character, Miss Midnite.
"It's what I always enjoy in a story – exciting, inspiring and challenging. I believe that's the best basis for any creative project – that if we're having fun, then so will the reader. " And we are having loads of fun! ~ John Peel