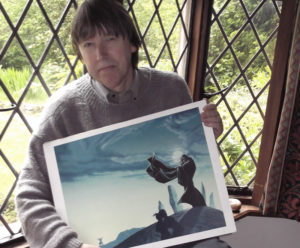 Covering The Dark is Rising Sequence ~ Andrew Skilleter
In 1992 I received a call from the then editor at The Bodley Head publishing house asking me if I would illustrate the wrap-around hardback covers for Susan Cooper's The Dark is Rising Sequence. Would I? Absolutely!
I was already an experienced professional illustrator with scores of covers under my belt since 1979 and this was one of those rarer commissions for a complete series of covers. Not only that but of the kind of subject matter I loved. And what cracking title names –Under Sea, Over Stone –pure poetry. In those days, when individual imprints and companies still existed, one more often than not met with the editor and and/or the art director to discuss commissions. My instinct was to approach these covers as I would an adult series but I had to compromise and feature the children. My preference would have been to have left the children to the imagination and concentrated on the most powerful image I could extract from the text and arrive at dynamic, atmospheric and intriguing images that reflected the writing. Book covers are mini-posters and I believe a fair degree of artistic license is justified. Completed over a period of months, with each title delivered at intervals, they were well received and they are still a body of work I'm proud to have done, in particular Under Sea, Over Stone and Silver on the Tree. These two have a special place in my canon of cover art.
The links to new website and Facebook Fan Page of Susan Cooper are below and I would like to thank her for her kind support for this website. I was delighted when The Folio Society were in touch with me in 2012 last year using one of my covers for an article by Susan Cooper on the Dark is Rising covers over the years in their Folio magazine and more so to read her observations on the Under Sea, Over Stone cover. I am pleased to be able to reproduce the relevant extract here by kind permission of Susan Cooper and The Folio Society.
The Rising Dark in Children's Book Cover Design by Susan Cooper
The arts, like every other aspect of life, don't really mould our culture; they reflect its nature as it changes. From the 1970s onward, as books published for children shed the last nervous restraints of our Victorian heritage, personifications of evil came striding on to the jackets of all The Dark is Rising books, even Over Sea, Under Stone. I would blink, or sometimes flinch, whenever a new one landed on my desk, but it was twenty years before something happened to make me think seriously about my opinion of them.
Then in 1992 The Bodley Head commissioned a new Over Sea jacket from Andrew Skilleter, celebrated for his artwork for Doctor Who. It showed an evilly threatening Lord of the Dark in a swirling robe, and Chris Powling, then editor of the children's book magazine Books for Keeps, put it on his November cover. Very soon thereafter he was taken aback by a ferocious phone call from an anonymous reader. 'What on earth did you think you were doing … Utter irreponsibility …wildly over the top … How does occult exhibitionism like this promote children's reading …?'
The caller then slammed down the phone without waiting for a reply, so Chris Powling replied in an editorial instead. Sure, he said, the picture was scary – but not too scary. 'Most children actually enjoy the excitement that's involved – never mind its usefulness as an example of what to avoid. In this respect, as in many others, youngsters bear an uncanny resemblance to the rest of the human race.'
He went on to point out that times had changed since 1965. So I thought about this, and wrote to the magazine agreeing with him. 'Andrew Skilleter's jacket is scary, but so I hope is the part of the story it represents. A child sees a book, in library or bookshop or even supermarket. Nine times out of ten, it's the jacket that will induce him or her to pick up the book and investigate it contents. A good jacket, it seems to me, should simultaneously reflect truthfully the nature of the story and shout at the child, "Pick me up!" These days, after all, it has to compete with a lot of other visual shouts, from the television screen, from the computer, from video games.'
This is still true today, and if the indignant phone caller were to take a look at the violent images now available to children through computer games, he might change his mind about 'occult exhibitionism' in book jackets.
© Susan Cooper 2012
Susan Cooper's Website : www.thelostland.com
Susan Cooper's Facebook Page : www.facebook.com/SusanCooperFanPage
The Dark Is Rising is a series of five contemporary fantasy novels for older children and young adults, written by the English author Susan Cooper and published 1965 to 1977. The Dark is Rising, the second novel in the series, was published in 1973.
The series is sometimes called The Dark is Rising Sequence, which is the title of its UK omnibus edition (first 1984) and its US boxed set edition (first 1986). It depicts a struggle between forces of good and evil called the Light and the Dark and is based on Arthurian legends, Celtic mythology, and Norse mythology. Both magical and ordinary children are prominent throughout the series. It was inaugurated in 1965 with the UK publication of Over Sea, Under Stone by Jonathan Cape. The sequels were published 1973 to 1977, almost simultaneously in the UK and the US. Volume four, The Grey King (1975), won both the Newbery Medal, recognising the year's "most distinguished contribution to American literature for children", and the inaugural Welsh Tir na n-Og Award for English-language books with Welsh background. The concluding Silver on the Tree (1977) also won the annual Tir na n-Og Award.
Susan Cooper was born in 1935, and grew up in England. After attending Oxford, she worked as a reporter and feature writer for London's Sunday Times. Her first boss was James Bond creator Ian Fleming. She emigrated to the United states in 1966, married and became a full time writer.
She currently lives in Marshfield, Massachusetts, USA
The printed covers, The Bodley Head UK 1992
Please click on the images to see the full covers