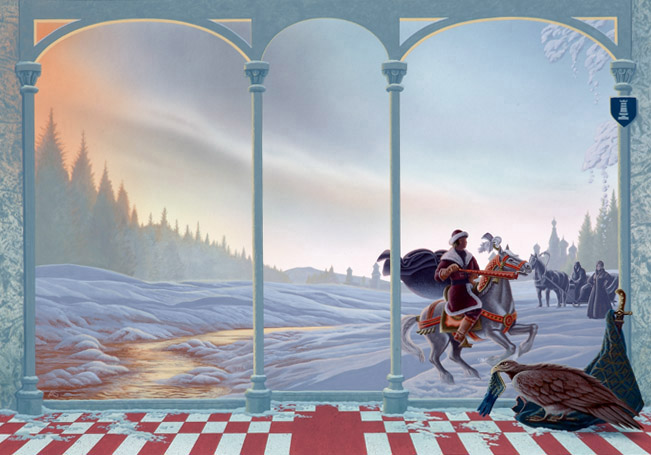 The Dorothy Dunnett Cover Art
The Original Cover Paintings of Andrew Skilleter
In 1990 I illustrated all six titles of Dorothy Dunnett's Lymond Chronicles and later, in 1991,The King Hereafter, as 'wraparound' covers. For years I've wanted to get these to a wider public and spurred on by Martine Dauwel and Suzanne McNeill of the Dorothy Dunnett Society I've finally established an area of my website dedicated to the covers art for the Dorothy Dunnett covers. Below you can enjoy the gallery featuring the original paintings and the book covers as they appeared all those years ago.
Original Paintings and Giclee Art Prints For Sale
Paintings
Two of the original paintings are already sold but the four remaining Lymond Chronicles original paintings are still available for sale at £495.00 each. A discounted price can be agreed for two or more. The available titles are :  Queens' Play, The Disorderly Knights, Pawn in Frankincense and Checkmate. The paintings are on rigid smooth art board painted in acrylics and the image size is approx 40L x 28H cm. Each is uniform size and perfectly flat with a white surround around the image and all in pristine condition. Also for sale is The King Hereafter, a larger sized painting, priced at £750. Please click on each image to enlarge and to view details.
Prints
For the very first time I am also offering beautifully reproduced signed giclée facsimile prints (fine-art digital prints) of each painting.  All seven are available as prints. Two samples are featured below.
Price : £25 for an A3-sized print plus £6 p&p within the UK and £10 shipping to the USA and Worldwide*, however many prints are purchased.
* there may be a surcharge for certain countries
If you are interested in discussing a possible purchase of the paintings or prints, please email me : artcols@freeuk.com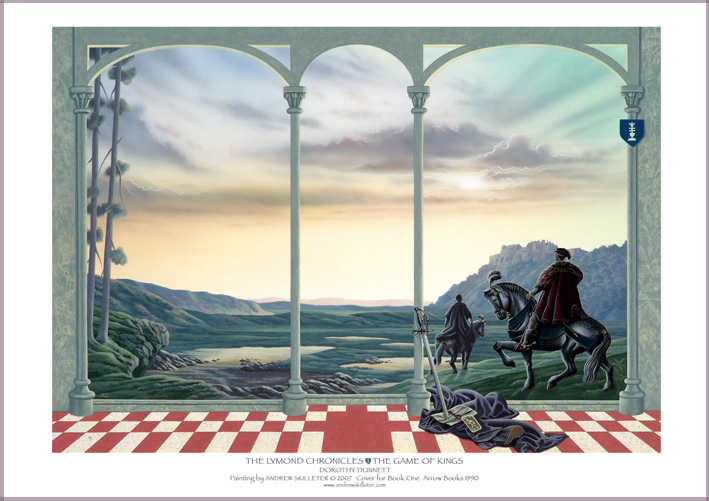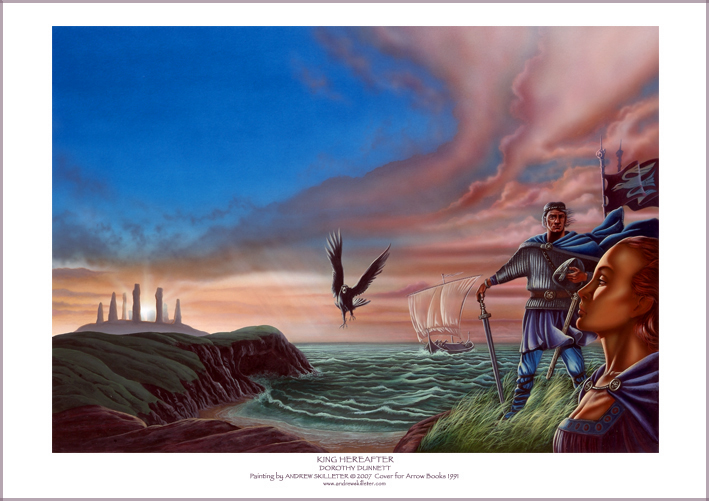 I've been a professional illustrator since the 1970s and in the 1980s and 90s I did hundreds of book covers before the mostly bland digitisation came to swamp traditional cover illustration. I think Ms Dunnett would have hated that – at least I'd like to think so, being a painter herself. Through my covers for Ruth Rendell's novels (1981-1990) I maintained an ongoing relationship with Arrow books through various art directors and publishing take-overs. In 1990 I was commissioned to come up with concepts for the Lymond Chronicles series, an exciting commission to receive. I'd always worked in a number of styles and something the publishers had on their files must have triggered them selecting me.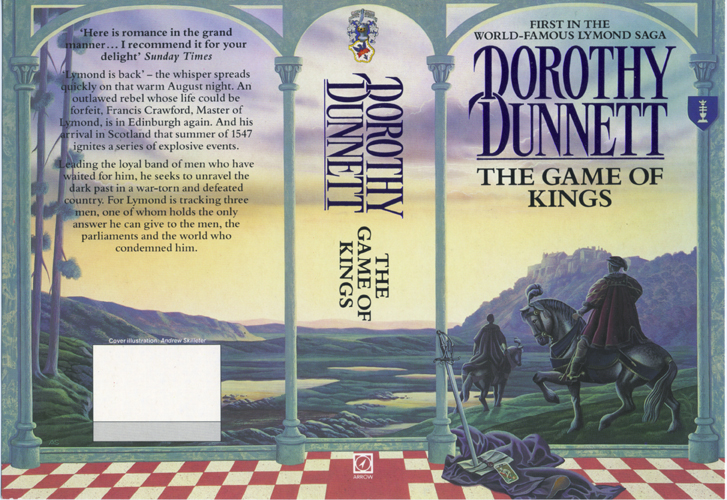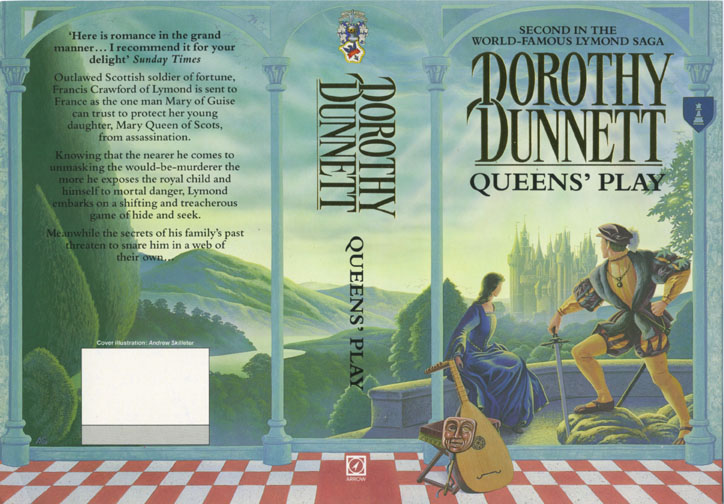 The publishers were focused on a major re-launch of the Lymond Chronicles and stylish new wraparound covers were the major part of the marketing strategy. They were going out of their way to make a big effort and Dorothy Dunnett was central to this from the beginning. I had the privilege to meet with her at the publishers in London to discuss my concepts at the outset. Following this, she wrote to me and the publishers in detail (as you would expect of Dorothy Dunnett) and I also had subsequent telephone calls with her. But that's a longer story.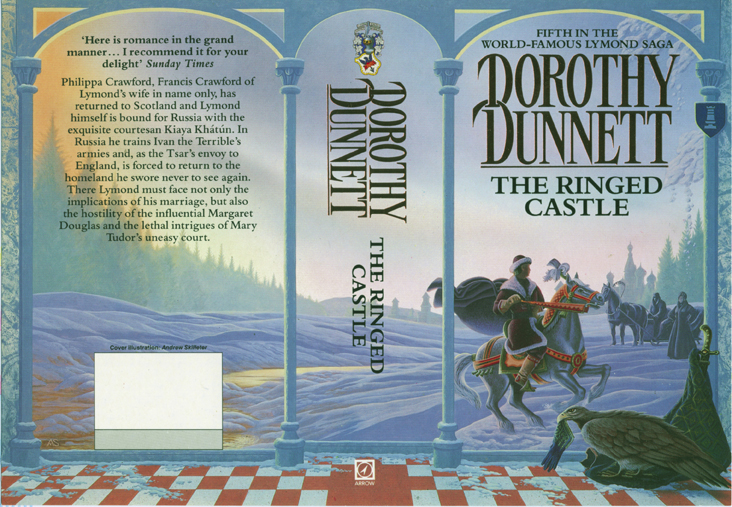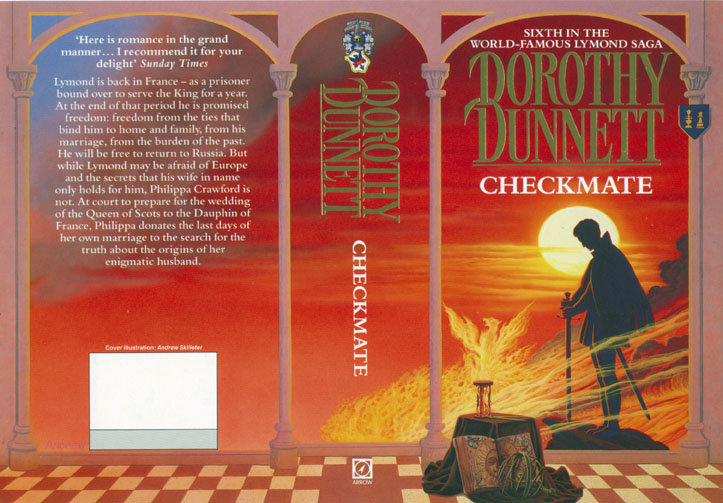 We were both being restricted by the demands of the publishers. But to give the publishers due credit, they did address her reservations and I did go on to incorporate a lot of her ideas she set out in that same letter and allowed us to get near what she wanted, including the little cryptic 'clues' on each cover. I then produced colour visuals for all the covers and copies were sent to Dorothy. My initial briefing included the importance of the skies to this set of covers. The idea was that as part of the marketing, a poster frieze would be created of all six covers, so you will see how the right hand of the sky on the first cover dissolves into the left hand of the second, and so on. It was a nice idea but sadly their budget must have run out, as the frieze never appeared! I hope to dummy one up shortly.
It was wonderful to work with this remarkable woman. I hope later set out her ideas for these covers in detail.