Description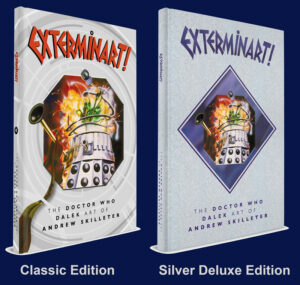 EXTERMINART! ~ The CLASSIC Edition
THE DOCTOR WHO DALEK ART of
ANDREW SKILLETER
A SIGNED LIMITED EDITION
Foreword and commentary by
John 'Daleks' Master Plan' Peel
A Dalektable book packed with Dalek Art beautifully produced and printed in litho all in fabulous colour.
128pp Large Format Hardback book 21.5cm x 30.5cm
Publication Date: November 2021
A SIGNED Postcard Set of a trio of Dalek artworks
free with every copy pre-ordered
Free EXERMINART! Bookmark with every book
A Positively EVIL New SIGNED Limited Edition Hardback by long-time professional Doctor Who artist Andrew Skilleter.
A Dalektable large format book packed with the Dalek Art beautifully produced and printed in litho in fabulous colour. (NOT digital or print on demand)
Over 50 pieces of art produced between 1979 and 2020, all the classics plus numerous unpublished/unseen private commissions, unique in-progress images and roughs showing his working methods. With commentaries by the commissioning fans and Andrew Skilleter, giving an intimate insight into the process of his art.
Daleks, Doctors, Companions and More!

Only available direct from the Artists's website www.andrewskilleter.com
---
A Personal Message from Andrew Skilleter
I am passionate about this book. It's been a great thrill to come up with the concept and see it through to this preorder stage. It is, and continues to be, very demanding as I never settle for second best but strive for great content, style, design and production quality. Behind the scenes I have great support but it will mean nothing without YOUR support. It's been a great thrill to have such a positive uptake on Pre-Orders following the launch about a month ago. The 30 Special Silver Editions were all sold out on the first day!
It's a Very Limited Print Run that has sold fast, so don't miss out – this isn't hype. And if you pre-order prior to publication you receive a unique Signed Postcard Card Set of a trio of Dalek art specially designed to accompany the book which will be published later November. Spread the word. Thanks so much, Folks!
---
ABOUT THE ARTIST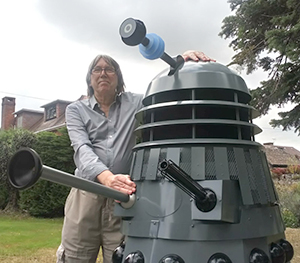 Andrew Skilleter's professional Doctor Who Art dominated the 1980s and continued into the 1990s. It included over 40 covers for the the legendary Target Books novelisations, the classic Who Dares Poster prints and official Doctor Who calendars, the legendary Cybermen book, numerous BBC VHS covers, and the first Virgin New Adventures covers, culminating in Blacklight, 1995, celebrating 15 years of his Doctor Who art,
This is only the second art book of his work.
Target Books ~ Who Dares PosterPrints ~ the Doctor Who Calendars ~ Cybermen book ~ BBC VHS covers ~
New Adventures ~ Blacklight : The Doctor Who Art